History
The foundation of the grammar school Gimnazija Šentvid reaches back into the period after World War II. The Slovene Ministry of Education started building a network of secondary schools together with a »general« type of schools (the so-called gimnazija) and the vocational type. The education authorities strived towards creating a full network of lower and higher general type of schools, so that as many children as possible would have the opportunity to acquire education at more demanding schools. Such was the atmosphere when on 3rd September 1945, the so-called nižja gimnazija Šentvid was established. 120 students enrolled at the institution in the first year. The first appointed headmaster was Janko Černut.
A temporary syllabus was regulated for the school year 1945/46, with the most prominent subjects the Slovene language and mathematics. The Russian language was given the first place among foreign languages, and Serbo-Croatian language was also obligatory. Social and science subjects have retained their importance, whereas art, music and physical education classes have gained more lessons.
In the school year of 1947/48, the school was renamed to XII. Gimnazija Ljubljana-Šentvid, and held the name until 1958 when again it was renamed to V. Gimnazija Ljubljana-Šentvid. It was only in the school year of 1974/75 that the institution received its current name Gimnazija Šentvid.
In 1980 a new law about the so-called »oriented education« was passed. According to it the educational system should have become »an integral part of the common system of associated labour«. The main task of the new secondary school system was to educate for work where the need for the general type of school was lost. Gimnazija was renamed to the Secondary School of Electronics and Science. The failed experiment of oriented education was finished after nine years, when the system returned to its previous form and gimnazija regained its old status.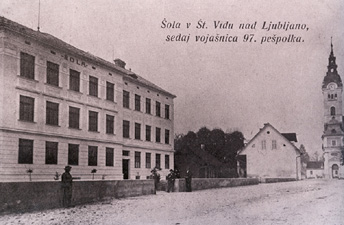 In the school year of 1990/91 our school reintroduced the general secondary school programme and enrolled 219 students. 1995 was the first year when after the four-year programme our students had to pass the final examinations called matura. The knowledge required for these final examinations is considered a prerequisite to further education at the level of University. The compulsory segment of matura consists of the mother tongue, foreign language and mathematics, whereas the selecting part allows students to choose among other subjects. All 180 registered students successfully passed the external examinations.